Most Cryptocurrencies In The Red After Recent Market Fall
Date Written: January 16 2018
Written By: George Miller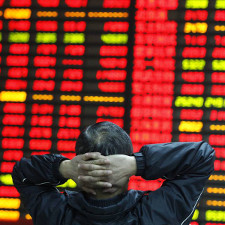 The cryptocurrency market has experienced tremendous success in the last few years, but it appears like things are taking a new turn. So many lows have been recorded by a large majority of crypto coins. By the 14th of January 2017, only three of the leading 20 cryptocurrencies were in the green, and this came by a great surprise.
However, the total market cap has continued to remain around $692 billion. It is evidently still trying to recover from the drop at around $630 billion that was witnessed on the 11th of January 2017.
Biggest Drops of the Week
One of the biggest drops that have been recorded is that of Ripple (XRP). Just as recently as 12th January 2017, this popular altcoin had been up over 18% and would later exhibit a net loss of about 10% within a 24 hour period. After Ripple made news about its joint partnership with MoneyGram, it later witnessed a rise in price and market cap.
Ripple's MoneyGram News
The news that was made on the 11th of January might have come to a crumble after the clarification of MoneyGram that they were strictly using the cryptocurrency XRP for a pilot program that they were working on. Ripple published an article that suggested that MoneyGram was planning to use XRP for purposes that were more than just a test.
Through a tweet, MoneyGram stated clearly that it was just a pilot program that was being tested on the internal MoneyGram International processes. The tweet went ahead to state that the whole project was not intended for consumer use.
IOTA
In early December of 2017, IOTA underwent the same drop after making a clarification that Microsoft was not their official partner. This was the opposite of what Altcoin had written earlier in their blogs. Microsoft, according to the official statement they later made was just one of the participants in their huge marketplace.
Tron, Cardano and RaiBlocks
Both Tron and Cardano have witnessed about 17% and 13% drops respectively just within a period of 24 hours. Cardano, for instance, was at about $0.76 while Tron was valued at about $0.092.
Among these recent price drops, the largest one was that of RaiBlocks. This altcoin went down roughly 16% within a period of 24 hours. It was at the bottom of the list of top 20 cryptocurrency coins that have felt the wrath of January 2018. By the time this article was being prepared, RaiBlocks was sitting at $16.15.
RaiBlocks also happened to be one of the only two coins that appeared in the red by January 2018. This was at a time when the rest of the market was a bit up. The drop of RaiBlocks could just be attributed to the recent reports of the problems it faced with its online wallet. The altcoin's web wallet has since been taken offline.
The Only Few Gains
Despite all that drama that has been going on in this side of the market, there are certain cryptocurrency coins that have recorded big gains. One of them is the Ethereum Classic that witnessed the most growth within 24 hours. It went up to 17% and sold for $44.32. The growth was believed to be attributed to the CNBC interview that was done on 12th January 2018.
Another cryptocurrency that witnessed some of the biggest gains was Neo. Within a period of 24 hours, this cryptocurency recorded a growth of 3% and was valued at $137.45. Another 0.37% was also recorded by Bitcoin Gold, which was valued at $297.98.
These are some of the coins that did fairly well during this volatile time for other key players in the marketplace. Bitcoin, which is the largest cryptocurrency based on the market capitalization, went down about 7%. The pullback did not come as a huge surprise, based on the recent meteoric rise in price that Bitcoin experienced. However with that 7% low, Bitcoin was still trading at an average of $13,474.70, which was much higher than the market low price of $12,850 that it faced on December 22nd.