RaiBlocks (XRB) Re-Brands as Nano
Date Written: February 2 2018
Written By: George Miller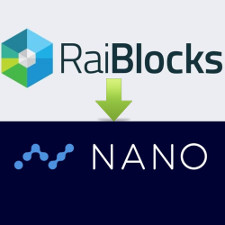 RaiBlocks is one of the newest cryptocurrencies to hit the market, first released to the world in November of 2017. XRB was one of the biggest beneficiaries of the December 2017 rally in the crypto market. On December 1st, RaiBlocks (XRB) was sitting at just $0.23 USD and it managed to run all the way up to a high of $35.08 on January 1st, 2018 – a gain of over 100x in just one month, making it a top 25 crypto based on market capitilazation within just 3 months of launching.
Reasons For Name Change
While it managed to quickly accomplish success with its original name of RaiBlocks, the team behind the project decided to rebrand itself for the new year. It's new name will be "Nano." The reason for the name change has two main purposes;
1. To simplify the name and better represent what the project is trying to accomplish. As the dev team said earlier in the week, the name will represent "the simplicity and speed of the project" to investors and the mainstream audience. The project, which is focused on allowing micropayments to be sent and received on its blockchain with zero fees, will be much better suited with the name of Nano.
2. To alleviate confusion on the pronunciation of "RaiBlocks". People would commonly refer to XRB as "ray" blocks, while others would pronounce it "rye" blocks.
XRB Rallies After Announcement
After the announcement was made by the XRB team that the name would be changed to "Nano" and the project would be completely re-branded, XRB rallied up by almost 50% during the following week. Amid the massive decline in value that the cryptocurrency market has experienced over the last week, Nano (formerly RaiBlocks) is one of the least affected. Over the past 7 days, XRB is up around 2%, whereas Bitcoin is down over 22% during the same period.
With the re-branding, their website has been changed accordingly, to nano.org. Their old website, at raiblocks.net will remain live.
One of the biggest obstacles the XRB team has faced is a lack of accessibility to investors who are interested in it. Since RaiBlocks was launched, investors could only purchase XRB tokens at a few small exchanges. The team has been actively trying to get listed on some larger exchanges, including Binance in particular. Once that happens, and XRB is easier to access, the value could very well continue on the upward trend it has been experiencing.