Bitcoin Crosses $10k for First Time in Two Weeks
Date Written: February 15 2018
Written By: George Miller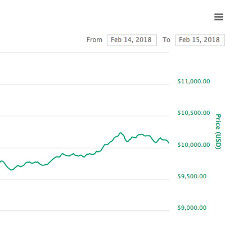 After the cryptocurrency market experienced a major bull rally in December of 2017, a massive pullback occurred from January to February. Bitcoin prices went from all-time highs approaching $20,000 down to a 3-month low of $6,914 on February 5th. Just today, BTC prices finally seem to be showing some positive signs of recovery, and have crossed over the $10,000 mark for the first time in two weeks. At the time of this post, prices are currently sitting at $10,026 according to Coindesk data.
Today's price movement seems to be directly driven by an uptick in buy orders across major Bitcoin exchanges like GDAX, Bitstamp and Kraken. It's unclear exactly what caused the buying, as there was no major news surrounding Bitcoin in the last few days. Most notably, however, the ECB president, Mario Draghi spoke out to warn young people against investing in cryptocurrencies like Bitcoin. Among his remarks, Draghi stated "Frankly I would think carefully before investing.."
In other regulatory news, the CFTC created two brand new sub-committees this week. The new committees consist of CFTC members, public figures, and members from the private sector who will be dedicated to Bitcoin, cryptocurrencies and blockchain tech. The SEC chief, Jay Clayton also spoke out about cryptos recently, calling for more cryptocurrency market regulations.
Bitcoin Not Alone in Recent Rally
Bitcoin is not the only crypto to rebound from the January pullback. In recent weeks, Litecoin has been leading the pack among the top 5 cryptocurrencies, heading up from lows of $126 in January, to over $215 as of today. Ripple, on the other hand, has remained relatively flat price-wise over this same period. Though XRP has managed to reach $1.15 from around $1 last week – about 15% gain – this is much lower than the gains seen by Bitcoin and Litecoin.
Ethereum, which reached as high as $1,399 in January was also affected by the January/February pullback. On February 5th, ETH was trading as low as $673. Today the ETH price is sitting at $973, representing a roughly 40% recovery since that time. It's unclear if this is a temporary move for Bitcoin, or if the buying pressure will lead to a more sustained bull rally. Regardless of what comes, it seems cryptocurrency prices will remain volatile for the foreseeable future.