Bitcoin Eying New Peaks, Heading for $12,000 USD
Date Written: December 5 2017
Written By: George Miller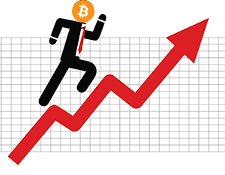 Over the first weekend of December 2017, Bitcoin accelerated over, with its prices hitting brand new highs just some few days before a planned new future is launched.
On Sunday, 3rd December 2017, Bitcoin/US Dollar reached a session high of $11,839, that was all enough for a brand new peak. By the morning of Tuesday, 5th December 2017, the prices of this cryptocurrency had moved to around that record high obtained on Sunday. At around 08:00UTC Tuesday, 5th December, the prices of Bitcoin had hit $11,793. However, a drop of $144 was encountered just before the end of the day, bringing the price to $11,649.
Within the last 24 hours, Bitcoin has been able to gain 4.18%, and 18% within the last one week.
The new highs that Bitcoin has attained in the last couple of days have granted it a total market cap valued at over $185 billion. This puts it at the top of over 1,200 cryptocurrencies all over the world. On Sunday, the 24-hour trade volume of Bitcoin went past the $6 billion mark that had been set in the industry. About 15% of the world's turnover was contributed to by Bitfinex, while Bithumb, based in South Korea had slightly over 6% at position two.
Same League With Fiat Currencies
The fact that Bitcoin is now eying the $12,000 price level has placed it on similar trading grounds with some of the world's most established fiat currencies. Barely six years after it was unveiled for the first time, Bitcoin is now holding position six as the world's most valuable currency. This move by Bitcoin also pushed the entire cryptocurrency market capitalization beyond $350 billion for the very first time in this industry.
Even though the value of Bitcoin is positively moving, its transaction capacity is not doing that well. There are a number of hard forks in the blockchain that have been formed as a result of challenges associated with creating a more scalable cryptocurrency.
In November 2017, developers repudiated from the much-hyped SegWit2x fork, which was expected to double the size of stored blocks from 1MB to 2MB. Lack of consensus within the community led to the cancellation of this hard fork. Following that hiccup caused by SegWit2x, Bitcoin was able to regain back its strength after an initial selloff. Ever since that time, the prices of this world's largest cryptocurrency by market capitalization have been on a tear.
Bitcoin's Newly Acquired Billionaires
It has been speculated by several media outlets that Cameron and Tyler Winklevoss are the world's first Bitcoin tycoons. Earlier on, these twin brothers sued Facebook's CEO Mark Zuckerberg for stealing the Facebook idea from them. They were later paid $10 billion; an amount that they all used to purchase a huge holding in Bitcoin.
At the moment, Tyler and Cameron have plans to create the first Bitcoin-traded fund, which is yet to be approved by the Security and Exchange Commission.
But back to the current happenings in regards to Bitcoin's new price, the bulls were able to score a brownie on Monday night by ensuring that the cryptocurrency closed above $11,500, which was the highs for the previous week. Whereas prices hit $11,831 on Sunday, 3rd December 2017 for the first time, the close of the day came below the previous record highs. This is a clear indication of the exhaustion of the bull market.
All indications are clear that Bitcoin might set a brand new record high above $12,000 in the next few days, or just hours. The imminent listings of Bitcoin futures by CBOE and CME have been considered as opening doors for institutional investors that might want to come in. CME Group will become the first established exchange platform to provide Bitcoin futures. 2018 will see NASDAQ and CBOE follow in the same suit.
Bitcoin still has so much scope for further developments in the short and medium terms. The scheduled introduction of Bitcoin futures later in December 2017 is just one of the major gains that this cryptocurrency is set to achieve.
But despite all this development, a healthy pullback to a price below $11,000 is not an impossibility. According to the words of strategist Tom Lee, Bitcoin is a digital gold, and achieving even a price range of $100,000 is possible.