SEC Suspends Trading of 3 Companies Over Cryptocurrency Ties
Date Written: February 16 2018
Written By: George Miller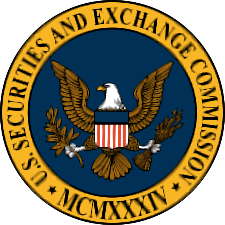 In a statement made on February 15th, the Securities and Exchange Commission of the United States announced that they would be suspending trading for 3 companies with ties to cryptocurrency and blockchain assets. The suspension is set to take effect starting at market open on Friday, Februrary 16th and will remain in place through March 2nd. The statement read:
"The Securities and Exchange Commission today suspended trading in three companies amid questions surrounding similar statements they made about the acquisition of cryptocurrency and blockchain technology-related assets."
Companies in Question
The companies in question are Cherubim Investments, Inc. (CHIT), PDX Partners, Inc. (PDXP) and Victura Construction Group, Inc (VICT). All three of these entities are little-known "penny stocks" that trade for well under $0.01 USD and the biggest company of the three, PDXP, has a market cap of just $1.28 million according to Yahoo Finance. Recent press releases were made by these companies, where they announced large acquisitions of AAA rated assets from a private equity fund. Specifically, PDXP announced a $350,000,000 acquisition of assets from a trust fund with crypto ties, which appears to be what caught the SEC's attention.
Though the companies in question are not large billion dollar corporations, it is still big news for anyone who follows the cryptocurrency markets. This is one of the most recent examples of the SEC going after (potential) crypto-related crimes within the business sector. Just last week, the SEC Chief, Jay Clayton, made several statements calling for more cryptocurrency regulation.
In their statement, the SEC went on to say:
"The SEC's trading suspension orders state that recent press releases issued by CHIT, PDXP and VICT claimed that the companies acquired AAA-rated assets from a subsidiary of a private equity investor in cryptocurrency and blockchain technology, among other things. According to the SEC order regarding CHIT, it also announced the execution of a financing commitment to launch an initial coin offering."
The Company Who Sold the Assets
The private equity investor in question is NVC Fund Holding Trust, a trust manager of NVC Fund LLC out of Delaware. In the press release, sources stated that PDXP purchased $350,000,000 in AAA rated assets from NVC. The value of the deal is nearly 350x the market cap of PDXP. On the official NVC website, they state that the trust manages over $128 billion in assets. NVC appears to deal mostly with assets like precious metals, oil and gas as well as business services (including blockchain technology and presumably, crypto assets).
The $350 million acquisition is just a small drop in the bucket of NVC Holdings' $100+ billion portfolio, but for PDXP it seems like a massive amount of cash. It is still unclear how these small companies were able to come up with that kind of cash, and what, if any, crimes were committed.
While this news can be taken as a negative, in reality it is likely a positive sign. If the SEC and other regulatory bodies of the United States government can successfully regulate cryptocurrency-related crimes, it will certainly help the long term sustainability of the market by making it more legitimate, "above-the-boards" industry.