Ethereum Dark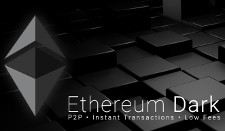 Ethereum Dark (ETHD) is a proof-of-work/proof-of-stake cryptocurrency based on the Scrypt algorithm that was launched on September 20, 2017. It aims to provide profitable, secure, and anonymous trading. Users can perform public transactions or choose to hide details about the sender, recipient, and amount transferred in order to keep their transactions private.
The coin was created in reaction to the increasing regulation by governments and industry regulators who are against the disruption cryptocurrencies are causing in the financial industry. Its developers believe more should be done in the cryptocurrency industry to protect users, and that's why Ethereum Dark intends to give users complete anonymity.
The identities of the Ethereum Dark developers is unknown. They did not release any information on the coin's technical specifications and overall mission during its launch. Ethereum Dark is not affiliated with Ethereum, Vitalik Buterin, or the Ethereum Foundation.
Ethereum Dark Pricing, Market Cap and Volume

Ethereum Dark will be capped at 4.2 million coins. 2.9 million coins were released during the first phase. After the swap period ended, the circulating supply was cut in half and went down to 1.5 million. The remaining coins in the total available supply are held by the development team. They plan to gradually release them to prevent a market crash.
Ethereum Dark was released without an ICO so that "everybody gets a fair chance from the start," the developers wrote in a Bitcointalk forum post about the coin. ETHD was worth $0.10 during its release. The price peaked at $5.10 on October 6, 2017 with a market cap of $7,644,495, and then crashed to less than $0.3 after the swap period ended.
As of December 2017, there is a circulating supply of 1,500,000 ETHD with a market cap of $316,283 and a 24-hour volume of $47,791. The value of ETHD averages $0.25.
How Ethereum Dark Works
Ethereum Dark is unique because it embraces smart contract encryption to give users anonymity. Smart contracts created on the Ethereum blockchain are typically not encrypted, but Ethereum Dark will offer users "absolute anonymity" using encrypted smart contract technology.
According to the white paper that was released on September 25, Ethereum Dark's features will be launched in phases. The first phase was the release of ETHD into the market. Once a sufficient number of coins was distributed, the developers initiated a coin swap and allowed users to trade their ETHD for new coins at a rate of 2:1.
The swap was their way of crowdfunding Ethereum Dark without an ICO. They wanted to give everyone a chance to buy ETHD from its release date until October 11, 2017. The end of the swap period ushered in the second phase.
In the second phase, Ethereum Dark's smart contract feature was activated, allowing the use of ETHD tokens as a means of payment for goods and services. The third and final phase will deploy Ethereum Dark's anonymity feature. Transactions will become encrypted by the smart contract feature introduced in the second phase.
Anonymity is achieved by the addition of masternodes. The white paper describes masternodes as "servers connected to the blockchain network with limited functionality to allow perform limited tasks." The masternodes introduced on the Ethereum Dark blockchain will allow smart contract transactions to be conducted anonymously.
To prevent the masternodes from bloating the network, the sender and receiver must each have at least 1,000 ETHD. The amount must be stored in an e-wallet that is transparent to everyone else in the network. Spending or moving those coins will cause the masternode to stop working. The developers believe this will make ETHD appealing to merchants and individuals who value privacy and anonymity. They plan to create around 50,000 masternodes on the system within a year after the third phase begins.
In addition to the introduction of masternodes, phase three will also integrate online point-of-sale systems into the blockchain.
Ethereum Dark vs. Ethereum
Unlike Ethereum, Ethereum Dark appears to only be a cryptocurrency for now. It doesn't have a platform for developing smart contracts and decentralized applications, but that is one of the goals listed on the coin's official road map. The only noticeable difference between Ethereum and Ethereum Dark is that ETHD will allow users perform anonymous transactions.
Ethereum Dark will use "masternode technology, coupled with smart contract algorithms" to make user-to-user transfers anonymous, the official white paper states.
Is Ethereum Dark a Scam?
Several members of the crypto community have accused Ethereum Dark of being a scam. It was originally launched without a white paper, roadmap, or any information on its developers. The coin's developers are accused of orchestrating a "pump and dump" scheme that took advantage of the Ethereum name to trick new users into buying the coin.
Vitalik Buterin, founder of Ethereum, has publicly stated that Ethereum Dark is not associated with Ethereum. He was surprised by Ethereum Dark's usage of the Ethereum name even though it doesn't share any of Ethereum's core ideas or code.
Acquiring and Storing Ethereum Dark
Ethereum Dark can only be traded on CoinExchange and NovaExchange in a BTC crypto pair. The developers released a multi-platform wallet that allows users to trade the coin on various exchanges during its launch. The wallet can be downloaded on Ethereum Dark's official website.
Liquidity of Ethereum Dark
Ethereum Dark is tainted by scam allegations and as a result, ETHD has poor liquidity. Whether this will change in the future remains to be seen, but it's not looking promising. Invest in this coin at your own risk.
Related Cryptocurrencies: