Jackson Palmer Bio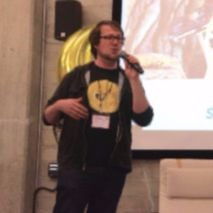 Jackson Palmer's rise to fame and popularity is a bit of a bizarre series of events. Unlike many other notable figures in the history who had a clear vision of creating a successful crypto asset, Palmer's creation was a bit of fun. Today, that "joke currency", Dogecoin is actually one of the most popular cryptocurrencies on the market. Dogecoin now has a market cap of almost half a billion dollars and is commonly used for micropayments, such as tipping people online.
Apart from his foray into the world of cryptocurrency and blockchain technology, Jackson is also a digital marketer having spent almost a decade at Adobe as a product marketing specialist.
Early Life
Long before Jackson gained celebrity status in the crypto world, the Australian born marketing and coding genius attended the University of Newcastle in Sydney, Australia. He attended the institution from 2006 up until 2008, when he graduated with a Bachelor of Management degree in Marketing.
Business Catalyst
The following year after graduating from College, Jackson landed his first job as a Marketing Analyst at Business Catalyst. The firm was a Sydney-based SaaS platform. Jackson's duties at the firm included content planning, content creation, and market research. He was also responsible for carrying out performance measurement activities on email marketing campaigns for the firm's clients. In 2009, Adobe Systems acquired the company and Jackson transitioned to working for Adobe. He spent 7 months working for Business Catalyst from February 2009 to the time of the Adobe acquisition in August 2009.
Adobe
Jackson spent almost all of his professional career working at Adobe. After transitioning from Business Catalyst, he was appointed as a Product Marketing Specialist. He held this position for 3 years. During that time, he more or less continued with the bulk of his responsibilities while at Business Catalyst. The only difference was that his role at Adobe focused solely on the web professional market.
In July of 2012, he was promoted to the post of Associate Product Marketing Manager, a position he held for 18 months. His main duty was to manage several marketing activities for the Adobe Business Catalyst platform. By December 2013, he was promoted again to the post of Product Marketing Manager before subsequently being promoted again 16 months later to Senior Manager, Usage Analytics. These days, Jackson is the Group Product Manager for the Creative Cloud Growth department at Adobe. He was promoted to this position is January 2017.
Blockchain Technology Career
Being in the digital marketing field that was solely focused on the web professional market, it didn't take Jackson long to discover bitcoin and cryptocurrency. By day, he was a Product Marketing Manager and by night, he was a coding and cryptocurrency enthusiast. All of this would later culminate in the creation of Dogecoin.
Dogecoin
In 2013, there was a popular meme that was ubiquitous all over the internet, that meme was the face of a Shiba Inu with funny captions written all over it. This meme, known as the Doge also had texts depicting comical grammatically inaccurate phrases all over the face of the meme. The texts were written in Comic Sans fonts and included phrases like "very alarms", "much amaze", "such awake", and "many sunshine." Jackson came across the meme as did many people at that time and decided to make a joke about it. He posted a tweet that included the word "Dogecoin" and things took off from there. The tweet was intended but whether by the sheer popularity of the doge meme or cryptocurrency, or a combination of both, the idea struck a chord.
After the initial buzz created by Palmer's Dogecoin tweet, the idea of creating an actual Dogecoin currency began to be floated around twitter and a number of online forums like Reddit. In time, a substantial community of would-be early Dogecoin adopters had emerged and would constantly encourage Palmer to create the actual Dogecoin. Palmer eventually bought the domain Dogecoin.com and created a splash screen with the coin logo and the signature Comic Sans font of the original doge meme. Billy Markus, co-creator of the Dogecoin cryptocurrency happened upon the site in an IRC chatroom and immediately reached out to Palmer about working on the technical aspects of the coin.
Dogecoin is a clone of the Luckycoin cryptocurrency. According to Palmer, the name Dogecoin came about as a result of having two tabs open on his browser, one for the doge meme and another for the coinmarketcap.com website. While designing Dogecoin, Billy Markus did make a few alterations from the operational and design template of Luckycoin. For one, he changed the random nature of the block reward for miners to a static block reward. Luckycoin, which Dogecoin is based on, is a clone of Litecoin, the cryptocurrency created by Charlie Lee. Just like Litecoin, Dogecoin uses a Scrypt-based mining algorithm. This means that the mining process is a lot less susceptible to being monopolized by sophisticated mining hardware like FPGAs and ASICs.
Dogecoin was launched in December 2013 and the coin achieved a number of notable early successes. On the subreddit forum of the cryptocurrency, users were able to raise $30,000 to send the Jamaican bobsled team to the Winter Olympics in Sochi, Russia. After China decided to prohibit banks from investing in the Bitcoin market, Dogecoin was one of the few cryptocurrencies to experience any growth within that period. This growth then attracted mining cartels who took advantage of the limited computing power of the Dogecoin network. This led to the price of Dogecoin falling by as much as 80% during that time.
In 2015, Palmer left Dogecoin to take an extended leave of absence from the cryptocurrency community. In February 2018, the cryptocurrency had a market capitalization of about $600 million and was trading at $0.005 USD. In terms of market capitalization, Dogecoin has consistently remained in the top 50 among all cryptocurrencies.