HTC Launches New Blockchain Phone
Date Written: October 21 2019
Written By: Richard Sullivan
After a releasing its first blockchain-friendly mobile phone last year, HTC is hoping to attract customers with a less expensive alternative for technology and cryptocurrency enthusiasts. In October of 2018, the Taiwanese smartphone maker released the Exodus 1, which was one of the first blockchain-friendly phones on the market. At launch, the phone could be purchased for 0.15 bitcoins, which at current value would be roughly $1,200. After struggling to compete with the likes of traditional mobile devices being put out by Apple and Samsung, HTC chose to let customers purchase the Exodus 1 for $699. According to CNBC, HTC's Phil Chen stated that the first phone did meet sales targets. Nonetheless, HTC is now releasing a smaller, more affordable option with the Exodus 1s. The new iteration of the blockchain phone costs $244, or the cryptocurrency equivalent of that price. In addition to the drop in price, the Exodus 1s boasts a number of new features.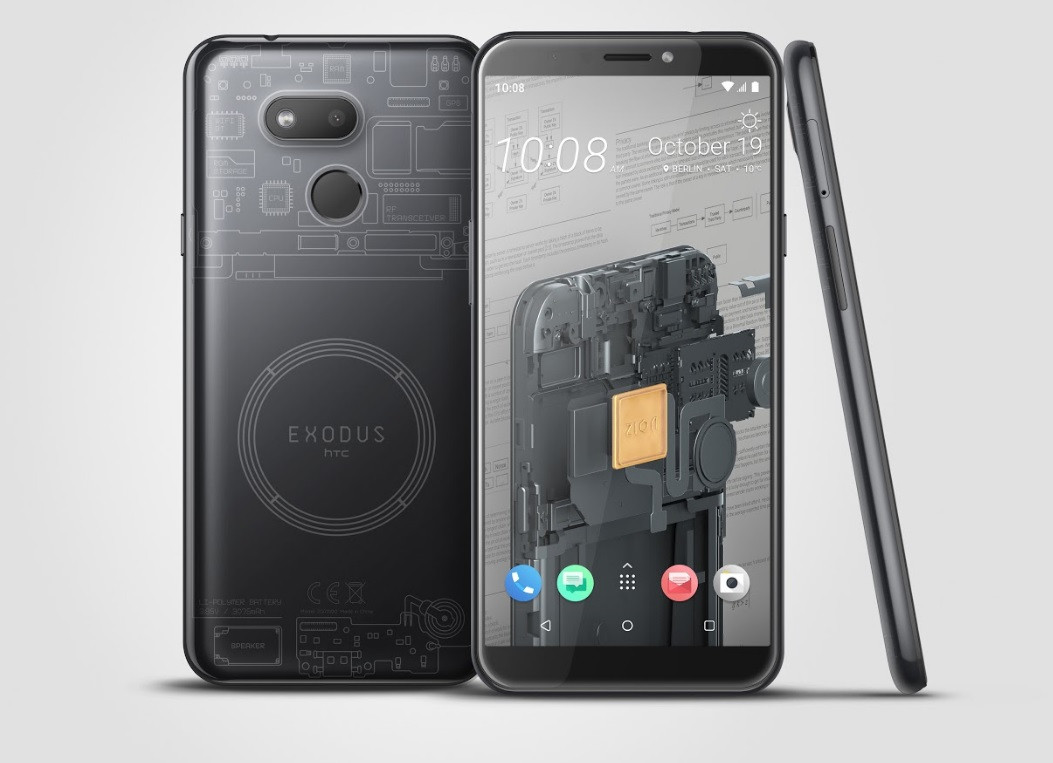 The Bells and Whistles
The Exodus 1s offers users the capability to exchange, lend, and borrow digital assets. The new device's largest claim to fame is that it is the first smartphone that has the ability to run what is called a "full bitcoin node." A full node is a program that can fully validate transactions and blocks on a blockchain network. Blockchain technology uses peer-to-peer technology in order verify transactions between users and keep a decentralized general ledger of these transactions. Anyone can use their Exodus 1s to not only exchange digital assets, but also verify their own transactions on their device. However, anyone interested in utilizing this feature would have to pay an additional fee to purchase the 400GB MicroSD card to make up for the storage needed.
Running a full bitcoin node requires a substantial amount of power. As a result, HTC has recommendations for Exodus 1s users who plan to utilize this feature. While running the full node, users should connect to Wi-Fi with their phone plugged into a power source. As mentioned previously, the standard 64GB of storage will not be enough to utilize this feature, so users must purchase an additional SD card that has a capacity of 400GB or more. Additionally, HTC has said that the Exodus 1s will not be able to operate as a mining node. Aside from the blockchain technology, the Exodus 1s has a 5.7-inch HD display, 4GB of RAM, 64GB of internal storage, and a single rear-facing 13-megapixel camera.
A Growing Interest in Blockchain
Since the introduction of Bitcoin in 2009, cryptocurrencies and blockchain technology have expanded and increased in popularity. It's important to note, however, that this increase does not mean that these technologies are without their critics. Cryptocurrencies have proven to be volatile assets, constantly fluctuating, sometimes drastically, in value. Part of the reason for this fluctuation stems from the fact that big-name companies and nations across the globe have been hesitant to accept these new currencies as a reliable resource. Over the years, the market has experienced its ups and downs, with Bitcoin hitting its all-time high of nearly $20,000 in December 2017 and then dropping to $3,122 in the following year.
Despite the fact that blockchain technology and cryptocurrencies have failed to achieve wide-spread acceptance, HTC sees the value in what is considered to be the currency of the future. The Exodus line of smartphones offers a new look on what has become a household item. Smartphones, like the Exodus 1 and Exodus 1s make cryptocurrencies more accessible to wider groups, and also opens the door for people with restricted access to the financial system. Chen believes that the blockchain-style phones could present a new opportunity for mobile devices around the globe.
HTC isn't the only company to begin exploring the use of such technology; A Swiss start-up called Sirin Labs has launched a crypto-focused product of its own. Samsung has also released a blockchain variant of its Galaxy Note 10 in South Korea. HTC's Exodus 1s will begin shipping in Europe, Taiwan, Saudi Arabia, and the United Arab Emirates in the coming months. In the future, the Exodus 1s will be available in other markets.