Changpeng Zhao Bio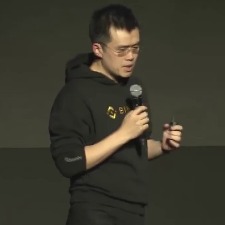 Changpeng Zhao or "CZ" as he is fondly known within the crypto community is one of the more recognizable personalities in the blockchain and cryptocurrency space. Zhao's is a story of a rapid ascendency to fame and recognition from relative obscurity. These days, CZ is the CEO of Binance, one of the largest cryptocurrency exchange platforms in the world.
His crypto holdings give him a net worth of between $1 – $2 billion putting him in the elite class of cryptocurrency billionaires. Perhaps one of the most profound aspects of CZ's story is the fact that 7 months ago, Binance had not been established and his biggest involvement in the cryptocurrency space was a stint at OKCoin which ended with his resignation in 2015.
Early Life
CZ, 41, was born in Jiangsu, one of the most industrialized provinces in all of China. He was born to a family of educators with his father being described as a pro-bourgeois intellect. Not too long after CZ was born, his father was temporarily exiled. In the late 80s, the family decided to move abroad, settling down in Vancouver, Canada. To support his family, the then-teenage CZ started working at McDonald's flipping burgers. He also took an overnight shift at a local gas station in order to contribute to the family's upkeep.
Zhao attended the McGill University in Montreal where he studied Computer Science but he also had a talent for futures trading and the Stock Market. This aptitude of his would serve him well in later life when he began his professional career.
Pre-blockchain Technology Career
After college, CZ bounced around the globe, spending time in both Tokyo and New York. He spent the next few years honing his talent as a trading software expert, until he found a job at Bloomberg in New York City.
Bloomberg
In the year 2001, CZ began working at Bloomberg. Fresh off from developing a system designed for matching trade orders on the New York Stock Exchange, CZ took a job at Bloomberg where he was assigned to the Bloomberg Tradebook division. He was responsible for designing and developing software solutions for futures trading. In the 4 years that he spent at Bloomberg, he was promoted 3 times. At the end of his time there, he was responsible for managing teams in different locations such as Tokyo, London, and New Jersey. In a matter of years, he had become the Bloomberg Tradebook Futures Development Chief, but he ended up leaving the company in 2005.
Fusion Systems
CZ had grown somewhat impatient while at Bloomberg despite his considerably rapid career trajectory. The then 27-year old programming prodigy was in search of a new challenge and so he decided to quit his job at Bloomberg and found Fusion Systems. This was his first attempt at establishing his own company and he would spend 8 years at Fusion Systems, even while involved in other ventures. He finally left in December of 2013, but during his time with the company, he played a vital role in developing a number of rapid high-frequency trading systems that became popular with many brokers.
Blockchain Technology Career
Zhao first came in contact with Bitcoin in the year 2013. He had a friend, Ron Cao, who was the Managing Director of Lightspeed Venture Partners. The two regularly played poker together. Upon investing in BTC China (now BTCC) in August of 2013, Cao introduced CZ to Bitcoin. CZ immediately took interest in Bitcoin and began to dedicate a lot of his time to research. He got a hold of Satoshi Nakamoto's Bitcoin whitepaper, began crawling through Bitcoin Talk forum postings, and even attended a number of Bitcoin conferences.
Another friend of his, Bobby Lee, the CEO of BTCC advised him to put about 10% of his net worth into Bitcoin. With the price of Bitcoin growing steadily, he became interested in getting a job in the industry and soon came in contact with popular crypto investor Roger Ver, which subsequently led him to join Blockchain in 2013.
Blockchain
CZ joined Blockchain.info (more commonly known as Blockchain) where he worked closely with Roger Ver and Ben Reeves. He served as the Head of Development at Blockchain for a period of 1 year before departing to join OKCoin. Speaking on the departure, CZ maintained that it had been an "amicable one" and that he was still quite friendly with the team at Blockchain. When he joined Blockchain, he was reportedly the third person to be hired in the cryptocurrency wallet division of the company.
While at Blockchain, CZ played an important role in transforming the company to become one of the most recognizable Bitcoin storage services in the world. CZ played a hand in vastly improving the company's pedigree in Asia and was also involved in developing a number of products for the company's API. He also took part in the company's acquisition of ZeroBlock, an information service provider.
OKCoin
CZ joined OKCoin in 2014 as Chief Technology Officer (CTO). OKCoin at the time was the largest Bitcoin exchange in China. The platform specialized in spot trading between fiat and cryptocurrency assets. In less than a year, CZ would leave OKCoin with the exchange company owing about $10,000. The nature of the split was in no way amicable and CZ posted a lengthy statement on the Reddit online forum in the aftermath of the split. He cites a number of problems with OKCoin especially regarding the public contract dispute between the company and Roger Ver.
Binance
After his introduction to Bitcoin, CZ quietly nursed the ambition of establishing his own cryptocurrency company. His specific focus was on creating an exchange platform that did not carry out any transactions using fiat money. After leaving OKCoin, he decided to bide his time, waiting for the perfect opportunity which came with the ICO boom of 2017.
In July of 2017, CZ launched the Binance ICO which ended up raising $15 million. About 200 million BNB tokens were sold during the ICO. CZ leveraged all of the experience he had garnered over the years in trading and the cryptocurrency market to create the Binance cryptocurrency exchange platform. Top of the agenda for him was scalability, so he made sure that the platform had inbuilt scalability features right from the beginning of the project.
Within 6 months, Binance grew to become the number 1 cryptocurrency exchange platform in the world. The ban on ICOs and exchange platforms by the Chinese government in 2017 forced the company to move abroad. With many of its customers based in China at the time of the ban, the company moved to Japan. Today the majority of the users on the platform come from the United States and Japan. The platform supports 120 coins and offers 240 trading pairs.