Roger Ver Bio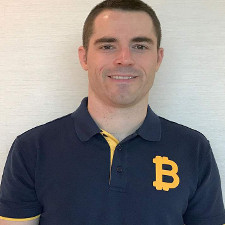 Roger Ver, popularly known as the "Bitcoin Jesus" is a leading figure in the Bitcoin community and one of the earliest adopters of the cryptocurrency. Over the years, Roger has become synonymous for a number of controversial views concerning issues in the Bitcoin space. He has always been a vocal proponent of economic freedom, libertarianism and voluntaryism. All of this forms a large part of his interest in Bitcoin.
He was a major contributor to the establishment of the Bitcoin Foundation and has continued to support the efforts of the foundation through numerous donations. He is also one of the promoters of Bitcoin Cash.
Early Life
Roger Ver was born on January 27, 1979 in San Jose, California. He spent the bulk of his formative years in the Silicon Valley living with his predominantly Christian family. By the time he was in Junior High School, Roger was already running a moderately successful business selling candy bars, making as much as $50 per week. When he got to High School, he experienced even more success eventually buying a white Ford Mustang.
Pre-Blockchain Technology Career
At age 16, he had a falling out with his father over a property dispute concerning the Ford Mustang. His deeply religious parents did not approve of the purchase and his father attempted to sell the car by placing an advertisement in a local Newspaper. Roger responded by calling the police who threatened to arrest him if he didn't withdraw the ad. This dispute led to Roger moving out of the family house. He then attended a community college in Cupertino, California called De Anza College for a year before dropping out. After dropping out of college, Roger elected to pursue a number of small business interests.
Memory Dealers (1999 to 2012)
Roger started Memory Dealers in 1999 as a wholesale enterprise for computer spare parts. The company's website service MemoryDealers.com offered a vast catalog of custom transceivers and memory hardware. The company designed as well as produced modules for Cisco, laptops, and Juniper.
By the time he was 25 in 2004, he was already a millionaire as the Memory Dealers client base had increased tremendously. Roger served as CEO of the company from 1999 to the year 2012.
Political Career
In the year 2000, Roger decided to go into Politics. He ran as a Libertarian candidate for the California State Assembly. Roger based his campaign on issues like taxation, the war on drugs and the operations of the ATF. During a debate held at the San Jose State University, he argued strongly against taxes, calling them illegal as well as declaring the war on drugs as immoral and finally described the ATF as being thugs and murderers.
Imprisonment
In 2002, Roger pleaded guilty to the charge of dealing in explosives without a license. Roger had been arrested due to the fact that his company had been selling an item called the "Pest Control Report 2000" which was essentially a firecracker that was popular among farmers for scaring away birds. Roger alleged that he was the only one prosecuted while the manufacturer and other sellers were merely told to stop. He was given a sentence of 10 months imprisonment in a Federal prison. While in prison, Roger taught himself Japanese.
Roger claimed that he was being unfairly prosecuted on account of some of his campaign rhetoric directed against the ATF. He alleged that he was forced to enter a plea bargain or risk being sent to prison for up to 8 years. Roger served 10 months at the Lompoc Federal Penitentiary after which he was put on probation for 3 years. On the last day of his probation, Roger moved to Japan.
Change of Citizenship and Emigration to Japan
In 2006, Roger emigrated to Japan. By 2014, he had renounced his US citizenship and became a citizen of Saint Kitts and Nevis.
Blockchain Technology Career
Roger claims that he first came in contact with Bitcoin sometime in late February of the year 2011. He was listening to a Bitcoin podcast and became interested in the cryptocurrency. He spent the next few days and weeks locked up in his San Jose apartment learning as much as he could about Bitcoin and the Blockchain technology.
Bitinstant and Charlie Shrem
In the spring of 2011, Roger made his first Bitcoin investment. He invested about $25,000 in Charlie Shrem's Bitinstant. Back then the price of Bitcoin was $2 and his investment helped Charlie Shrem expand operations of Bitinstant. By the summer of that same year, the price of Bitcoin has increased to about $30 making Roger a Bitcoin millionaire.
Investment in Blockchain Start-ups
Roger invested upwards of a million dollars into a number of Blockchain-based start-ups as he became more involved in the cryptocurrency market. He invested in ventures like Ripple, Kraken, Bitpay, and Blockchain.info. His company's website, MemoryDealers.com became one of the first to enable Bitcoin payments. He also created an online store that allowed Bitcoin to be used as payment for the items listed on the store. The store was called bitcoinstore.com. Roger continues to emphasize the use of Bitcoin, regularly using it to pay for hotel bills and plane tickets.
Bitcoin.com
Roger bought the domain name Bitcoin.com from Blockchain.info in April of 2014. The domain name is registered under the Saint Bitts LLC in Saint Kitts and Nevis. The platform provides trading and wallet services for both Bitcoin and Bitcoin Cash. It is also an online casino, store and web portal with a number of regularly updated blog posts and news articles pertaining to Bitcoin and Bitcoin Cash.
Bitcoin Cash
Roger Ver was one of the earliest vocal supporters of Bitcoin Cash after the fork from the Bitcoin network which led to its creation. Critical of block size limits and the associated mining difficulty algorithm adjustments that had been plaguing the core Bitcoin network, Roger was a big supporter of increasing the block size limit. When the network couldn't come to a consensus of the implementation of BIP 91 which was supposed to introduce the SegWit protocol,
Roger was among those who supported the fork that led to Bitcoin Cash.
He has gone on record several times to declare that Bitcoin Cash had the potential to be even bigger than Bitcoin. Roger has consistently expressed frustration with the congested nature of the Bitcoin network which he claims is as a result of the inability of the developers to adopt a bigger block limit size.