Bitrefill Adds Steam Vouchers, Craigslist Supports Bitcoin
Date Written: December 11 2017
Written By: George Miller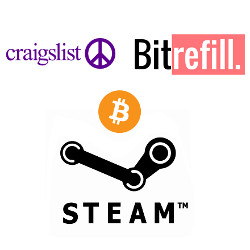 In what can be considered as a serious blow to online gamers who use the most popular cryptocurrency, Bitcoin, Steam has announced that this currency would no longer be accepted as a means of payment. The relationship was doomed mainly by high transaction fees and price volatility. In other economies that are freer, such opportunities are considered as one of the ways of gaining market share by offering customers a lifeline to some of the coveted services.
Craigslist, which is an online classified marketplace, has now given its users the ability to specify that they accept cryptocurrencies as modes of payment. Craigslist decided to take this path after having sensed a sort of advantage in the offing. It added a new option for those who are making a for-sale post, titled 'cryptocurrency ok'.
Craigslist accepting Bitcoin is definitely one of the best mainstream cases of the ultimate utility of Bitcoin. It can help in situations where cash might fail. Bitcoin also allows peer-to-peer confidence and so it can work in situations where large transactions are needed.
Steam Without Bitcoin? Bitrefill Wants to Help
Steam cannot be wholly blamed for that move that they decide to take. Apart from the rising price, Bitcoin is on fire, and most of its problems have continued to scale. Users who try to access exchanges have reported cases of long delays, particularly during prime runs.
Some time ago, Valve, which is its parent firm aired its complaint on the online platforms and tried to explain its loss-loss frustration with the friction-Bitcoin. Users of these two giants in the world of cryptocurrency also took to social media to air their viewers, with some even predicting that Bitcoin wouldn't be around for long. However, a bunch of other users decided to tackle the matter from a philosophical point of view.
When Bitcoin's trading fees are cut into Valve's profit and other related transactions, it comes to around $5. So from that analysis, Valve seems to be making a point. Whereas its control over its area of specialization is very strong, they appear to be doing away with a once loved method of payment.
To balance the fees for the transaction, the best thing Valve should do is to re-enable Bitcoin with a specific minimum. But even better, the company could also use Bitcoin Cash, which is not only the original Bitcoin but also quite cheap and fast.
From the look of things, Bitcoin Core might not be around in the next one or two years, and Bitcoin Cash will then have more command. It will definitely take all the use-cases that are currently enjoyed by Bitcoin Core – the services, the value, the merchants, the miners and the traditional ecosystem built around Bitcoin. Unless the complicated adjustment logarithm of Bitcoin Core is hard forked, then this service might freeze very fast, but of course after a huge price drop. Miners haven't had the best place to escape to during the past price drops; Bitcoin Cash could be just the one.
But while all these were taking place, one company saw an opening and decided to chip in. The company is Bitrefill, which is mostly recognized as a mogul in the market for mobile phone apps. Through a statement that was released by the company, they decided to give a new hope to thousands of gamers who had been denied an opportunity to use Bitcoin for paying Steam gaming. They have created a platform where gamers can easily purchase Steam vouchers from Bitrefill.
A Case of One Door Shuts, Many Open
Paying Steam vouchers with Bitrefill is not as complicated as some might think, it can be easily done through normal Bitrefill transactions. But besides that, they can also be paid through off-chain payments with LocalBitcoins accounts, Xapo Accounts, as well as the Coinbase Accounts.
Litecoin support, which is an experimental native from Valve, can also help in this regard. Bitrefill seems to be more committed to ensuring that Bitcoin is used as a currency by people all over the world. Bitcoin is one of the most promising global forces, and it can stay in that position for some time.
There are a number of additional payment services that have opted to experiment with Bitcoin. One of the largest payment processing companies; Square, is one of the most recent to jump on board. Bitcoin seems to be riding on the back of the various cryptocurrency platforms that have surged all over the world.