Exchange
Currencies
Fees
Fiat?

88
0.5%

247
0.1%
Mithril (MITH) is a cryptocurrency token that rewards content creators for their contributions on social media networks. The process of earning virtual currency for contributing content on social media is now referred to as "social mining."
Mithril believes valuable content is generated from all walks of life; through audio/podcasting, video blogs, live streams, images and text. Under the current social media model, however, only professional content creators who have large followings are able to monetize their content. Through social mining, Mithril will enable anyone who adds value to social networks to benefit from their efforts.
The project is being developed in Taiwan by Jeffrey Huang and the team behind 17 Media. Some of its most notable advisors include the QTUM Foundation, Pantera Capital, Sora Ventures, Blockstate, and AMIS. You can learn more about the experience and credentials of the team members and advisors on the Mithril website.
MITH Pricing, Market Cap and Volume
The total supply of MITH caps at 1 billion tokens. 300 million tokens were sold in private placements. There was no public crowdsale. The tokens are distributed as follows:
30% was sold in two rounds of private placements
35% is held for Social Mining
20% is held for bounties, security, smart contract auditing, and community development
5% is held by the development team. The tokens will vest over four years
5% is set aside for early backers and advisors
5% is held in a reserve fund
MITH's market cap was first listed as ~$50 million USD in March 2018. The price of one token at the time was ~$0.16 USD. It crossed ~$1 USD in April 2018 when its market cap rose and reached ~$422 million USD, but its price has since stabilized. Mithril has shown healthy growth since its launch and has quickly risen to become one of the top 100 cryptocurrencies by market capitalization.
How Mithril Works
Mithril is implementing a new mining concept called "Social Mining" to help re-balance the existing social network model. Social Mining automates content monetization and equitably rewards all content creators with MITH tokens. The more value that a creator brings to the platform, the more MITH they will earn. All mining efforts and rewards will be initially transacted on the Ethereum blockchain.
Social Mining is meant to encourage content creators of all sizes to generate unique, quality content. In turn, this will attract more users and viewers, helping build a sustainable Mithril ecosystem. If it is able to attract enough users, the Mithril ecosystem will be able to quickly generate revenue for Mithril partners and their content creators, creating a virtuous cycle that enables sustainable growth.
The Mithril team's ultimate goal is to make Mithril the most optimized blockchain for all social networks. The first step to achieving that goal is to integrate MITH into all new and existing social media networks.
Mithril Integration Protocol
The Mithril Integration Protocol is designed for seamless integrations between social networks and the Mithril ecosystem. Through the protocol, the developers intend to simplify the integration of Social Mining, the MITH token, Mithril Vault, Mithril Merchant Network, and other features onto major social networks. Let's take a look at each of those features.
MITH Token
MITH is an ERC20 token that is used as payment across Mithril's application ecosystem. It can be used to pay for premium content channels, live stream applications, and mobile apps that provide different services. Mithril's first app partnership is with the dating service Minni Interactive, which accepts MITH tokens as payment for in-app purchases.
Mithril is also pushing for the retail acceptance of MITH through the Mithril Merchant Network. MITH is already accepted as payment at certain retailers in Hong Kong and Taiwan. Mithril's aim is to build a user base of social influencers who will become a desirable customer base for businesses that become a part of the merchant network.
35% of the total MITH pool will be available to users via Social Mining. The mechanism will have distribution controls similar to Bitcoin's dynamic mining difficulty adjustment.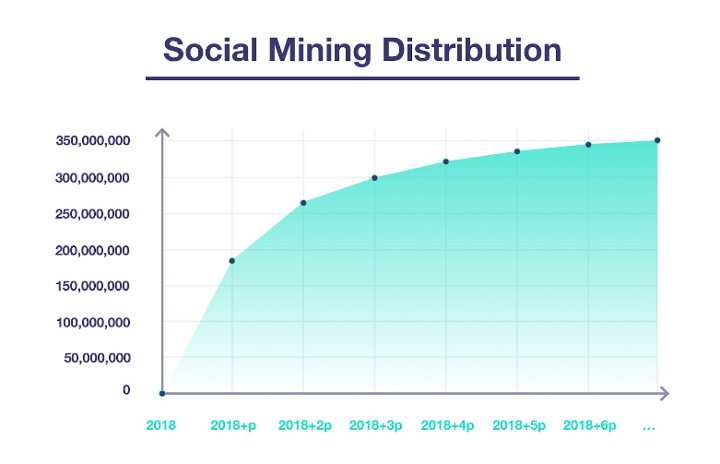 The above graph displays the model the Mithril will use to distribute MITH for Social Mining. This model will initially favor early adopters, but the rewards will reduce exponentially as time passes. Network growth will be driven by large MITH mining rewards. As the user base and network grows, MITH's value will increase accordingly, allowing for a smaller MITH reward to remain an effective incentive for Social Mining to continue.
All Social Mining transactions will be verified and secured using Ethereum smart contracts. For transparency, users can track and verify all transactions on the Ethereum blockchain.
Mithril Vault
The Mithril Vault is an application that Mithril partner platforms and users can use to manage, secure, spend, and exchange their MITH across different networks. It features an easy-to-use transaction system.
Ease of use and security is a priority for the Mithril Vault. The developers want to lower the barrier of entry for users of all platforms and provide seamless integration of the Vault across all partner platform. The Vault will also feature reward estimation tools that give users a rough estimate of their potential MITH reward based on their recent contributions.
Mithril Merchant Network
In addition to having apps and online services that accept MITH as payment, the Mithril team is also working toward a broader merchant network that enables physical, brick-and-mortar retail stores to accept MITH. Among the first retail partners to accept MITH is INST.RECYCLE, a celebrity vintage and used clothing retailer in Taiwan.
Mithril and Lit
MITH was launched as a utility token on Lit, a blockchain-based social media platform that features story feeds, friend discovery, and instant messaging. Lit enables social mining of MITH to reward users for contributing their content on the network.
Users can share their stories via Lit Stories and earn MITH tokens depending on the impact and influence their stories have across the network. Lit will serve as a platform to illustrate the value of a decentralized contributor model and act as the cornerstone for future social media networks.
The platform will seamlessly integrate into other social networks to help users more easily monetize their content. The Mithril team will assist any new or existing social network that wants to partner with the Mithril ecosystem and help bring their users onto the Mithril network.
Mithril vs. Other Cryptocurrencies
Mithril isn't the only cryptocurrency seeking to become integrated into all new and existing social media platform with the goal of rewarding content creators.
Reddcoin, for example, is a "social currency" for tipping social media users who provide quality content. There are also several decentralized social media platforms that have popped up in recent years (Steemit, Sapien, Sola, etc.) offering content creators new ways to monetize their work.
Mithril stands out because of social mining. It's a unique approach to rewarding content creators with the potential of drawing millions of social media influencers looking to earn an income for their content.
Buying, Storing and Selling MITH Tokens
MITH can be acquired from Bithumb, OKEx, HitBTC, Lbank, Gate.io, and Bitfinex.
As an ERC20 token, MITH can be securely stored in any wallet that supports the standard, including MetaMask, Mist, Jaxx, Exodus, and MyEtherWallet (MEW). Trezor and Ledger Nano S hardware wallets should also work.
Liquidity of Mithril
Mithril will always have good market liquidity as long as there are users using social mining to earn MITH on partnered social media networks. MITH's value has already managed to reach $1 USD, which is no small feat for a cryptocurrency that will one day have 1 billion tokens in circulation.