Brian Armstrong Bio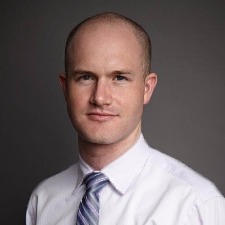 Brian Armstrong is the current CEO of Coinbase, one of the largest and most popular Bitcoin exchange in the world. He has appeared on numerous 40 under 40 publications as he is considered as something of a Rockstar in the Bitcoin community. He is a leading advocate of Bitcoin adoption, regularly speaking at conferences, workshops, and seminars.
Together with Charlie Lee and a few other early members of the Coinbase platform, he was able to create what has now become the first Bitcoin "unicorn." Throughout his life, Brian has maintained a strong interest in the technology market and has always participated actively in developing solutions for the industry.
Early Life
Brian was born on January 25, 1983. He grew up in the San Jose area of California. While in High School, he developed an aptitude for computer technology. He actively took up learning Java and CSS and recalls getting a lot of strange looks from his colleague on account of his "nerdiness." His first few paying jobs all came while he was still in High School as he designed websites for small-scale businesses in the San Jose area. At that time, he was working out of his neighbor's garage.
In 2001, Brian began attending Rice University. He graduated in 2005 with a double major in Computer Science and Economics. After his Bachelor's program, he decided to pursue a Master's Degree in Computer Science which he obtained in 2006. After college, he decided to spend a year in Buenos Aires, Argentina.
Pre-Blockchain Technology Career
While Brian was a junior at Rice University, he spent 4 months as an Intern Team Lead at IBM in San Jose. With his knowledge of Java, he designed a number of Java-based tools for Network Attached Storage devices. After completing his Bachelor's program, he got a job at Deloitte and Touche as an Enterprise Risk Management Consultant.
UniversityTutor
In August of 2003, Brian co-founded UniversityTutor.com together with John Nelson. It is a global marketplace where parents and students can locate independent tutors. The service enables tutors to create a tutoring enterprise and offer their services to a host of potential student-clients.
It also provides a platform that fosters connections between students and tutors via matching attributes based on a number of parameters. These parameter attributes include subject area, educational level, and geographical location among others. Students and tutors can arrange to meet at their own convenience as the platform is built around ease and convenience. Brian was the CEO for a period of 8 years, from August 2003 to May 2012.
Airbnb
In May of 2011, Brian began working at Airbnb as a Software Engineer. He was still involved in the UniversityTutor.com enterprise while working with Airbnb. He worked here for a period of just over one year and left in June of 2012 when he established Coinbase.
Blockchain Technology Career
Brian first came into contact with Bitcoin in the Christmas of 2010. He has previously recounted his realization of the fact that there weren't a lot of Bitcoin transaction marketplaces and he immediately saw an opportunity. Having been an avid participant in the development of start-up enterprises, Brian began to think of ways to take advantage of this potentially large market and that is how the idea for Coinbase was born.
Right from his time at High School, Brian had always had a passion for establishing businesses. He has admitted to going over a lot of business ideas regularly with his friends while in High School. During this period, he gained a lot of experience from mistakes and it served him well when he began to undertake more serious endeavors like Coinbase.
Coinbase
Brian had spent the most part of his life actively pursuing a career in the tech industry. With his double major in Computer Science and Economics as well as his experience with computer programming, he was well equipped for a foray into the tech start-up arena. Having discovered Bitcoin, he sought for a way to develop a marketplace for the then newly emerging cryptocurrency.
In July 2011, Brian together with Fred Ehrsam co-founded Coinbase. It was envisioned to be a Bitcoin marketplace that would enable people to purchase the cryptocurrency. By the summer of 2012, both Brian and Fred enrolled Coinbase for the Y Combinator Start-up Incubator Program. The program is famous for having invested in a number of popular start-ups like Dropbox, Weebly, Reddit, and Airbnb. The full launch of the company was in October of 2012 when it began providing Bitcoin buying and selling services via bank transfers.
Notable Investors
A number of notable investors and venture capitalists have invested in Coinbase over the years. This has enabled Brian and his team to rapidly expand the size of the Coinbase operation in a short space of time. In 2013, Brian and Coinbase were able to secure a $5 million Series A investment from Union Square Ventures (USV). By December of that same year, USV in association with Ribbit Capital and Andreessen Horowitz invested a total of $25 million in Coinbase.
Coinbase became the first Bitcoin exchange to be a recipient of direct investment from a major financial institution in January of 2015. Several banks in conjunction with the New York Stock Exchange and Draper Fisher Jurvetson invested $75 million in the company.
GDAX & BitLicense
Beginning from May of 2016, the company began offering its exchange services on a rebranded platform christened GDAX (Global Digital Asset Exchange). Ether was also added to the list of supported cryptocurrencies.
In January of 2017, the New York State DFS (Dept. of Financial Services) issued a BitLicense to Coinbase. This allowed the company to offer virtual currency trading services in the state of New York. In March of the same year, the New York DFS also authorized the company to provide Ethereum and Litecoin trading services in the state.
Charlie Lee
Charlie Lee, the creator of Litecoin is reported to be the third person that was hired to work on the Coinbase platform upon its creation. Charlie began working with Brian at Coinbase right after leaving his job at Google. Charlie worked as the Director of Engineering while at the company until he left in June of 2017.