Bitcoin Penguin Review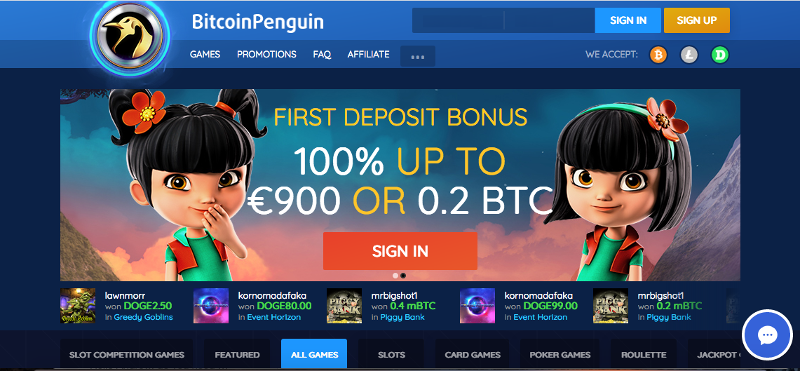 Bitcoin Penguin is a popular online cryptocurrency casino that was founded in 2014. The company is based in Belize and regulated by their national laws. There is conflicting information about this, however, as some sources say that Bitcoin Penguin is located in Costa Rica, while their official website states "Bitcoinpenguin.com is operated from Belize, and therefore these terms and conditions are governed by the laws applicable in Belize." While this may be disconcerning to some, from its inception the casino has received positive reviews from the online gaming community.
Bitcoin Penguin is part of a new wave of innovative online casinos that focus on offering a gambling experience facilitated exclusively through the use of cryptocurrencies. It accepts digital currencies like Bitcoin, Litecoin and Dogecoin rather than fiat money such as USD or EUR. For both casino operators and their players, the advantages of using digital currencies are simple – they allow for faster, more secure and pseudonymous transactions. These types of digital transactions are much more convenient for deposits and withdrawals compared to fiat currency methods like credit cards.
The Bitcoin Penguin platform doesn't currently offer a sportsbook, choosing to only focus on casino-based games like slots, video poker, blackjack, baccarat and other virtual table games. Bitcoin Penguin has approximately 200 online slot games, in addition to card games, poker, roulette and craps from several established gaming providers. If you're new to crypto casinos, rest assured, as Bitcoin Penguin has a 24 hour Live Chat and email support available and even states on its website that it can provide guidance to you on how to purchase cryptocurrency from an exchange.
Player Registration
It's great news for US players, as they're eligible to register and play on the site. Most other countries are also accepted, with the exclusion of the UK due to its highly regulated nature in the gambling industry. Like many other online Bitcoin casinos, you can register for a player account in as little as 30 seconds – just provide an email address, password and the currency you want to gamble.
After that, you simply need to verify your email, deposit the cryptocurrency of your choice and you're ready to start gambling – a very anonymous process compared to traditional online casinos which often require bank account details, a permanent address and much more verification. Bitcoin Penguin currently accepts three of the most popular cryptocurrencies in the market today, Bitcoin, Litecoin and Dogecoin.
Other cryptocurrencies, like Ethereum and Bitcoin Cash are not available for deposits or withdrawals at this time. Transactions are virtually instant and processed automatically in the casino, not only for deposits, but also for 99% of withdrawals. If you're lucky enough to win big, expect to have some form of verification process take place to withdraw winnings.
Website Layout and Usability
As an online betting veteran, its evident that Bitcoin Penguin has put considerable effort into building a website that is aesthetically pleasing with a logical and intuitive layout. Modern and balanced graphics help encourage users to explore the 400+ games they have to offer.
A nice feature of Bitcoin Penguin's platform is their real-time display of recent winners, including the amount of coins won and specific game being played, no doubt attracting players to try these new games in the different sections of the website and also hopefully win some coins. Oddly, the FAQ section of Bitcoin Penguin repeats the Q&As 4 times, but this obviously has very little impact on actual gameplay.
Not Mobile-Friendly
The only major negative when considering the layout and functionality of the Bitcoin Penguin website is its mobile-friendly offering – or rather, the lack thereof… It's currently non-existent. In the modern age when the vast majority of gamblers access online casinos through mobile devices, this is something the site should consider implementing sooner rather than later. In defense of the site, the actual games themselves seem to function reasonably well, likely due to the fact that these have been developed by a third-party gaming provider.
Similar to many modern online casinos today, Bitcoin Penguin has gambling time limits, wager limits and self-exclusion capabilities within the account area, should gambling ever become a problem for regular customers.
Game Selection
The selection of online slots, table games, video poker and various others are both numerous and range from reasonable to high quality. All games are developed by well-known software providers like Betsoft, Booming Games, Endorphina and other similar brands. Navigating to your favorite game is easy, especially when using the search bar and sorting functions at the top of gaming page. We found that the page speed and load time were relatively fast, and definitely acceptable for our standards.
Its unfortunate, however, to see that the site doesn't currently incorporate a Live Casino offering, but hopefully this is something that Bitcoin Penguin chooses to incorporate in the future. Their entire range of table games and slots can be played using the all supported deposit methods, and there's even a handy free-play option using a 'FUN' coin, for players to test out how a game plays before using real cryptocurrency. You will likely have to update Adobe flash player before using the site to ensure video slots and other virtual games can function.
Slot Games
Bitcoin Penguin has a wide range of slots with many different themes to entice the entire spectrum of online gamblers. Some of the more popular slot games include Aztec Magic, Africa Gold and Lucky Lady's Clover – players seem to regularly pop up with winnings on these slots on the Recent Wins Banner discussed previously in our review. Their selection of about 200 games are provided by Belatra, BetSoft, Booming Games, Endorphina and BGaming.
For those looking for that possible life-changing win, they feature a Jackpot Games category with a wide selection of games. While we were reviewing Bitcoin Penguin, one lucky user had just won over 2 BTC, nearly $20,000 dollars at the time of writing. Due to the anonymous nature of cryptocurrencies, it's not possible to verify whether these are real winnings however.
Casino Games
Bitcoin Penguin has a wide selection of casino games available on their websites, broken down further into Card Games, Poker Games and Roulette. Bitcoin Penguin offers several different variants of Blackjack, Baccarat, Pontoon, and even top trumps for those who know this niche game. The same applies for poker and roulette, meaning veteran table game players have a variety of options to choose from.
Cryptocurrency Deposits and Withdrawals
Deposits and withdrawals and Bitcoin Penguin are automated, fast and extremely straightforward. Fiat currencies are not accepted on the website, so you will require a third-party cryptocurrency wallet to send your chosen currency (BTC, LTC, or DOGE) through to the unique account address generated upon signup to the website.
You can deposit multiple currencies at once to the same account, as you will receive a custom address for each currency. You are able to see all your account balances via the account page. Each currency also has a simple cash out button should you wish to automatically withdraw funds from the site back to your own personal cryptocurrency wallet.
Bonuses and Promotions at Bitcoin Penguin
Bitcoin Penguin currently has various promotional offers, ranging from free spins, to cashback and deposit bonuses. For new customers, a great value First Deposit Bonus is available, offering a 100% match up to 0.200 BTC. This bonus is only available for slot games and comes with a 35x wager requirement.
The casino also offers several bonuses that are specific to different days of the week to encourage regulars to log in and play online on Mondays, Wednesdays and Saturdays. Monday's offer includes a 20% cashback guarantee on your biggest deposit that day if you end up with negative revenue and Friday is Free Spins day, with 30 for those wagering more than 1 BTC in total.
Saturday is dedicated to high rollers, with a tremendous amount of free spins being awarded to the top 10 biggest Bitcoin slot players (based on wagering of the eligible games) throughout the day. You can find specific information, including the current prize pools by clicking the Slot Competition Games link in the game category navigation. From our research, the wagering requirement on all slot games is 35x which is roughly the industry average.
Aside from all of these promotions and bonuses, Bitcoin Penguin also runs a dedicated affiliate program for regular users to sign up and gain revenue for referring further players to the website. The Bitcoin Penguin Affiliate Program offers up to 50% revenue share for all referred players.
How does Bitcoin Penguin Compare?
For starters, Bitcoin Penguin has an attractive, user-friendly interface that is complimented by a logical layout that is generally very easy to use. In some cases, duplicate information and out-dated images can give a feeling of unprofessionalism, although examples of this are few and far between. There are a large number of modern and varied games, enough to keep most customers happy and entertained.
Unfortunately, there is no Sportsbook or Live Casino on the site, but hopefully this is something the company is looking to implement in the future. While this is forgivable, the lack of mobile responsiveness in 2018 isn't. The vast majority of gambling is now done through mobile devices and tablets on the go, and its therefore imperative that Bitcoin Penguin incorporates this capability as soon as possible.
A word of warning, Bitcoin Penguin is based on Costa Rica, and has no real form of regulation to its operations and its use of fair gambling practices. This is very different from UK and Malta based casinos, which have the highest level of regulation, and therefore provide the highest level of protection to consumers over misuse of funds. The link to content showing how the online games within the website are 'Provably Fair' sadly loops back to the homepage, an unfortunate sign when considering trustworthiness.
On the other hand, however, there are a number of positive online reviews by site users to date, the vast majority of which are all extremely positive in regards to customers service, fast withdrawals and general support. Bitcoin, Litecoin and Dogecoin are sadly a double-edged sword in this respect – the anonymity afforded by the use of cryptocurrency also means that it very difficult to regulate through a central governing body.
In the future, if Bitcoin Penguin is serious about becoming one of the leading online casinos in an already saturated market, it will need to up its game in many ways. Trust, further regulation and a mobile-friendly experience need to form the bedrock on which this casino can continue to grow, attract new customers and expand the rest of its entertainment offering.
Summary
Reviewer
Review Date
Reviewed Item
Author Rating