Crypto-Games.net Review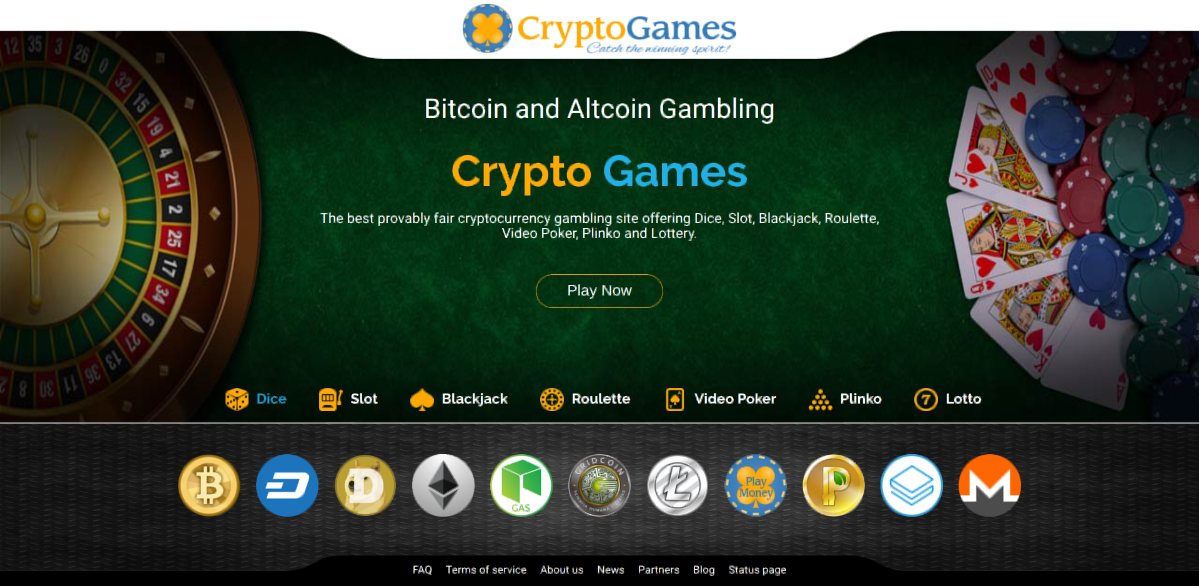 If you value fairness and individuality over the flash, bells, and whistles of other casinos, you may be in for a pleasant surprise. Crypto-Games.net has been the source of a unique Bitcoin betting experience since 2014. A site which was set up by cryptocurrency fans for cryptocurrency fans, the background of the site's founders in technology and design goes far.
Quite unlike any other cryptocurrency casino you will come across, Crypto-Games.net keeps things simple but fair and absolutely reliable. While reliable is not generally synonymous with "sexy", players can all agree that sacrificing superficial features for an increased chance of wins is something to consider. From 2014, Crytpo-Games have been the best-kept secret among Bitcoin casino players. In the most up-to-date version of the site, there are only a limited number of games which can be played: slots, dice, blackjack, roulette, video poker, plinko and lottery. So, without the plethora of flashy games and multiple titles, it can be tempting to see this as a downside. In the case of Crypto-Games however, that would be a mistake.
– Signup for a free anonymous account at Crypto-Games –
The casino at Crypto-Games – despite having been initially set up as a Bitcoin gaming platform – now supports a number of deposit and withdrawal methods. As covered in more detail below, players can use Bitcoin, Monero, Litecoin, Dogecoin, Stratis, Ethereum, Gridcoin, Dash, Peercoin and NeoGas. In addition, you can play for free using "PlayMoney" tokens. This wide array of payment options really emphasizes why this is a site for true crypto fans.
Not long after they developed the site's first Bitcoin slot game, the powers behind the casino introduced another three games. This has expanded, and there is a great chance that this catalog of games could expand even more. Does it need to? Maybe not, as the simplicity is part of the charm; especially when we take into consideration that it works well. If it ain't broke…
Provably Fair Gaming with Anonymity
Crypto-Games supports Provably Fair gambling. Additionally, Crypto-Games has a pretty robust and unique security system, which has been developed to protect players in all cases. There is no need to fill out a long registration form on this site, which means that anonymity is safeguarded as a result.
It is also evident that Crypto-Games like to look after players, if their referral program is anything to go by. How it works is that you will be provided with a link to promote the site. Your reward is a credit is an incredible 25% of the house edge on every bet made by those which you bring through the doors of the casino. A very classy and rewarding promotion, in any language.
Customer Support
When it comes to customer service and support, there is an email address where players can contact a representative regarding any worries they might have. There is no telephone number or live chat service, however, so you will more than likely be waiting up to 24 hours for an answer to your query. If you are looking for answers to a question or have any issues when using the site, your best bet is to use the social live chat feature where there is always at least one admin online.
Crypto-Games does not have a sportsbook, and in all likelihood it appears that they will never have one. Their casino is focused on providing a simplified cryptocurrency gambling experience, with self-developed games, so a sportsbook wouldn't really fit in with their current model.
Game Selection
As almost everything about Crypto-Games is unique, it is no surprise that this stretches across to its games. While many online casinos – and a high number of those which are explicitly targeted at Bitcoin and other cryptocurrencies tend to – abiding by a rule of thumb where variety rules is not shared here. You will find a limited number of games which are not comprehensive or flashy at all.
Where many players tend to gravitate towards casinos which offer a massive amount of slots, jackpots, classics and table games, everything at Crypto-Games follows a more straightforward pattern.
Slots
If you are looking for a number of slots to play under the Crypto-Games banner, you won't be satisfied. At first, anyway. There is just one slot – a classic-style 5-reel slot game – which has one pay line and seven winning combinations. The style of the slot game is in the traditional fruit variety, which adds a retro touch to proceedings.
If you aren't convinced that this site – or this slot – is right for you, look a little deeper and you will find that the odds of winning are better than average. If you are willing to stick to the one slot, as unflashy and basic as it is, keep in mind that your rewards come in the form of incredible 49.7% odds of winning. Yes, you read that right.
Table Games
Where the slots (or should that be slot) lack in terms of numbers, you will find that table games follow suit. There is not a dynamic range when it comes to options, so this is something which you will need to be aware of if you choose to play at Crypto-Games. Your choices are confined to Blackjack, Roulette, Dice and Plinko. Not what you may be used to when it comes to playing games, but there are some pretty attractive features to these games.
Roulette
Blackjack
Dice
Plinko
Live Dealer Table Games
At this point in our review, you have probably gathered enough information to know that this casino does not follow conventional patterns. While most of the renowned casinos online feature a Live Dealer selection from providers like NetEnt or Ezugi, and many of the Bitcoin and cryptocurrency casinos do the same, Crypto-Games is yet to adopt this feature.
There are a number of reasons why this could be. The most likely relate to how autonomous the site and its runners operate. For example, without introducing a number of external influences, this unique and deeply impressive casino would lose the charms which have endeared so many to it in the first place.
Video Poker Games
So, there are no live casino games to be found on the site, but there is one very basic helping of video poker. The game is very simplistic, but the provably fair feature and enhanced chances of winning definitely make it among the most potentially lucrative games you can find online. The format is the Jacks or Better theme which many will be familiar with, or Bonus Poker and Tens or Better as basic alternatives.
Video Poker Games
Jacks or Better
Bonus Poker
Tens or Better
Cryptocurrency Deposits
Bitcoin, Monero, LiteCoin, DogeCoin, Stratis, Ethereum, GridCoin, Dash, PeerCoin and NeoGas – many of the most popular cryptocurrencies are covered.
As this site is basically a casino for crypto-players only, you will not be able to play any of the games via the more traditional methods like Visa, MasterCard, and e-Wallets. If this is enough to put you off, then it goes without saying that Crypto-Games may not be for you.
Why not get on board though? Give it a shot, as you may think differently once you learn the ropes. The owners of this casino know this, and have provided a number of tutorials
BITCOIN DEPOSITS
Minimum: 0.0001 BTC
Maximum: No Limits
ETHEREUM DEPOSITS
Minimum: 0.005 ETH
Maximum: No Limits
LITECOIN DEPOSITS
Minimum: 0.01 LTC
Maximum: No Limits
DOGECOIN DEPOSITS
Minimum: 100 DOGE
Maximum: No Limits
DASH DEPOSITS
Minimum: 0.01 DASH
Maximum: No Limits
Cryptocurrency Withdrawals
Withdrawals must be made according to the same method you deposit with, which makes withdrawing your winnings pretty much in line with funding your wallet. As things tend to operate pretty smoothly with these guys, you can be certain that payments follow suit. Deposits and withdrawals come with less of the headaches you may probably expect with many other casinos. Withdrawals require 2 confirmations. According to the site, withdrawals are as follows:
Ethereum Withdrawal – cca. 1 minute (2 confirmations)
Dogecoin Withdrawal – cca. 2 minutes (2 confirmations)
Litecoin Withdrawal – cca. 5 minutes (2 confirmations)
Dash Withdrawal – cca. 2 minutes (2 confirmations)
Bitcoin Withdrawal – cca. 20 minutes (2 confirmations)
*Notes: Other coins have a similar transaction time to Dogecoin and deposits directly from an exchange usually take longer than deposits from a wallet. Transaction speed also depends on the network status of the coin you're using which can sometimes increase confirmation time.
BITCOIN WITHDRAWALS
Minimum: 0.002 BTC
Maximum: Not specified
ETHEREUM WITHDRAWALS
Minimum: Equivalent of 0.002 BTC
Maximum: Not specified
LITECOIN WITHDRAWALS
Minimum: Equivalent of 0.002 BTC
Maximum: Not specified
DOGECOIN WITHDRAWALS
Minimum: Equivalent of 0.002 BTC
Maximum: Not specified
DASH WITHDRAWALS
Minimum: Equivalent of 0.002 BTC
Maximum: Not specified
Bonuses and Promotions
Crypto-Games do not provide what you would class as a generic or classic bonus offer. In fact, the site does tend to stray from adhering to the types of offers you may expect to find at other gambling websites. When you have the pleasure of playing provably fair games where the house has a minor edge compared to other sites, this may resonate if you are a shrewder player.
Despite this, there are a number of wagering contests each game combined, rewarding the top three wagers with a number of treats which can amount to pretty nice sums. These range from partial Bitcoin giveaways, which can come in incredibly useful to your balance in the long term. The emphasis is on providing quality and real incentives over bonuses which are, let's face it, unrealistic.
Another nice aspect about the promotions the site offers is the in-chat awards which players can avail of. "The RainBot," for example will shine down awards on players depending on the number of users currently on the site. The rewards you can expect to reap are significant enough to keep you conscious of the feature. Existing players, judging from many testimonies we have read, cite this as a big reason for them returning to the site.
How does Crypto-Games Compare?
This is a Crypto-Casino which is so astoundingly unique that it is surprising it is not even bigger among fans of alternative casinos. As a Provably Fair casino, you can obtain proof that the games you are playing are not rigged towards the house. The casino knows that there is no funny business on your part, either, which makes for a relationship based on trust. This, in turn, makes it a rewarding environment.
The site was designed for cryptocurrency enthusiasts, by cryptocurrency enthusiasts, which immediately eliminates any of the cold snobbery you will find on other sites. The design may be simple and as straightforward as it comes for casinos, but with such a limited house edge on games, do you care? If the chief reason for you, as an individual playing games, is to play the flashiest and most pleasing out there, then maybe you will not be happy within the confines of Crypto-Games' unique platform.
However, if you like to play casino games primarily to win money, then this is among the best places to do it. Yes, you will be sacrificing the aesthetic pleasures and numerous gaming titles, but you will be availing from the services of a casino which has its roots firmly planted in the Crypto-world. Getting the most out of your passion for Bitcoin and other alt-currencies while enjoying your gaming experience is a huge selling point here, and it certainly should be, without question.
This is an ambitious site which has a number of years behind its operation. There are various features which indicate the true commitment to players, such as the numerous tutorials/FAQs which aim to make the experience as rewarding as possible to players. There are incentives for playing here, too, which urge you to do more than just play games, but join in on something truly extraordinary and invite friends, family, and acquaintances to do so too.
Summary
Reviewer
Review Date
Reviewed Item
Author Rating