Bitcoin Moves Past $10,000
Date Written: December 1 2017
Written By: Kyle David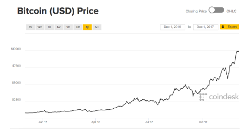 This has to be the biggest news in the world of cryptocurrency at the moment. Just 12 hours after going past the $10,000 landmark, the world's largest cryptocurrency surged $1,000 higher and hit a high of more than $11,000. This has made one Bitcoin worth over €8,400 or $10,050 USD. It should be noted that Bitcoin just took three days to move to $10,000 from $9,000, but it appears that the price is now moving at an even faster rate.
Having attained the mark of $10,000 on the early morning of Wednesday (November 29th), it took less than eight hours to increase by $1,000. It has faced several criticisms from the financial sector, with others even contrasting it to the early 2000s dot-com bubble, which led to several huge losses in technology stocks. At the start of 2017, one Bitcoin was trading at $1,000, and at the time of this post, it is at $10,059.50. This is a great improvement, and a gain of more than 1,000%.
The month of September presented its own share of losses to cryptocurrencies. After attaining a high point of more than $5,000, Bitcoin went ahead to lose almost half of the value it has garnered after the investors decided to cash in their profits.
Bitcoin has witnessed a huge growth in interest, which is naturally limited in circulation to less than 21 million Bitcoins. The number of holders who use online wallets to store Bitcoin and other cryptocurrencies has also increased tremendously with the rising price and more widespread adoption.
According to blockchain.info, which is the largest Bitcoin storage site, Bitcoin currently has close to 20 million wallet holders from just 10 million at the beginning of the year. For a very long time during the early years, Bitcoin was valued at just a few dollars, which implies that those who started long ago are now millionaires.
According to recent research done by Chainalysis, close to 4 million Bitcoins are believed to be out of circulation altogether – valued at over $40 billion at the current rates. A number of people have counted huge losses after losing their hard drives, forgetting passwords, and simply not remembering where they were kept.
Growing Interest From Celebrities
Whereas financial institutions and banks have started reviewing the practicality of blockchain-controlled networks, celebrities and public figures have decided to jump on the bandwagon. One of celebrity who joined recently is the American pop star, Katy Perry. On the 29th of November 2017, Katy Perry posted an Instagram photo to her 68 million followers, telling them of her one-on-one meeting with Warren Buffet. Perry went ahead to state that their meeting was to seek Buffet's thoughts on cryptocurrency. Warren Buffet is one of the world's wealthiest men, known for his ukuleles and Cherry Coke fondness.
While his response to the questions asked by Katy Perry is not known, he had previously told a group of business students in Omaha that Bitcoin cannot be valued since it is an asset that produces value.
One great thing about Bitcoin is that it is not controlled by any one entity but works on a decentralized network that is mainly maintained by its users. This implies that Bitcoin as a currency is entirely hack-free and transaction fees are relatively inexpensive. This, on the other hand, presents a number of challenges to financial regulators. By many in the traditional financial sector, cryptocurrency has been skeptically viewed as a popular channel among hackers and drug dealers due to its lack of regulation.
Many experts in the financial world have warned of a possible bubble as well, while others maintain that this cryptocurrency has a long run to finish before it finally blows. All these came after it smashed all boundaries in rapid succession as its whiffing rising continues.
There are even others who have speculated that it will soon hit the 1 million Euros mark. The wild price of this cryptocurrency has continued for the better part of this week. It should also be noted that it slumped from its newly acquired record high of $11,342 down to $9,295 just within hours on the night of 29th November. This was shortly before it regained much of the previously lost ground to trade at $10,787.99 in the morning of 30th November.